Notes
Recipe Notes
The amounts of each vegetable are provided as a guide and do not have to be exact. Create your own combination according to your taste and what's available!
Try adding other vegetables such as black eyed peas, chopped bell pepper, hot pepper or zucchini.
Try adding other seasonings such as garlic powder, thyme, basil or hot sauce.
If using fresh corn, slice 2 cups kernels from 2 to 4 ears, uncooked or cooked.
If using fresh tomatoes, use 4 large to 6 medium (3 cups chopped, peel first if desired).
Recipe developed with assistance from Mildred Braxton and other grandmothers in the Grandma's Hands group sponsored by the Black Food Sovereignty Coalition and Rockwood CDC - Gresham/Rockwood, Oregon.
Succotash Coloring Sheet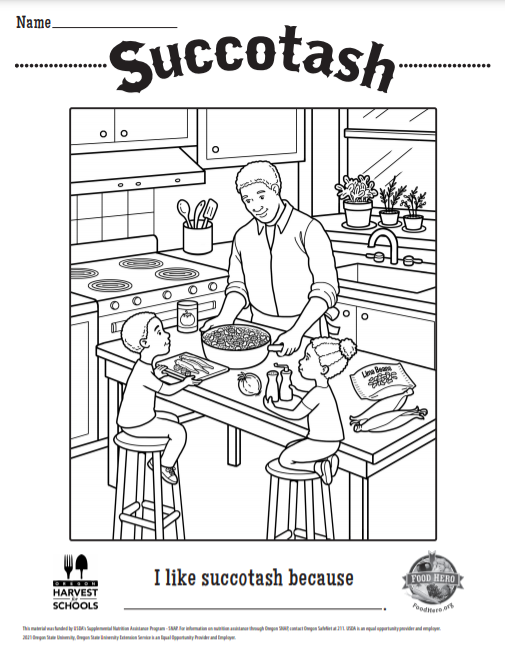 Ingredients
1/4 cup vegetable oil
1/2 medium onion, chopped
2 cups whole kernel corn (fresh, frozen or canned and drained)
2 cups lima beans (fresh, frozen or canned and drained)
2 cups cut okra (fresh or frozen)
1 can (14.5 ounces) stewed or diced tomatoes
1 cup water
1 teaspoons salt
1/2 teaspoon pepper
Directions
Wash hands with soap and water. 
In a large saucepan on medium heat, sauté onion in the oil until soft, about 5 minutes.
Add the rest of the ingredients, reduce heat to medium-low and slowly cook until the veggies are tender, the liquids reduce and the flavors are blended, about 30 to 45 minutes.
Refrigerate leftovers within 2 hours.